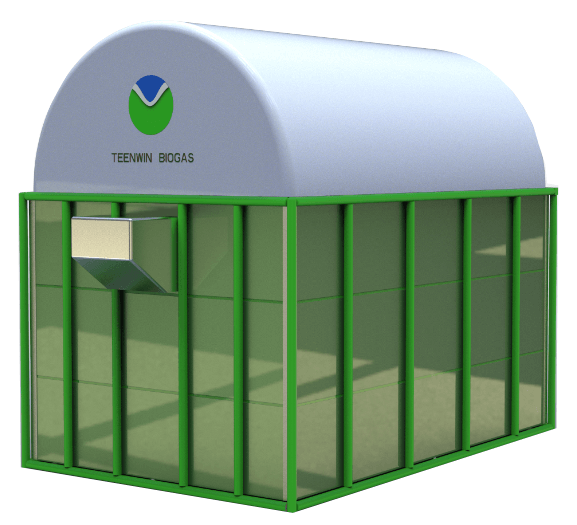 TEENWIN portable biogas system is composed of a membrane digester bag with a gas storage bag combined in one and anti-corrosion steel support frame, an inlet use for feeding the fermentation material, and outlet is to flow out the slurry, a biogas filter to clean the biogas, and a biogas pump support the pressure for the biogas stove. The digester bag is made by special material, has the characteristics of anti-aging, acid and alkali resistant, ultraviolet-proof. Biogas and bio-slurry are the major products from a biogas digester, biogas as clean energy can be using for household for cooking and lighting, and the bio-slurry it has multiple benefits in the field of agriculture, it can be used as a valuable manure by the household to improve crop yields.
Ⅱ、Process flow chart of portable biogas plant
Ⅳ、Packaging information (Total weight: 78kg)
Ⅲ、Advantages of Teenwin Portable biogas plant
1. None operation cost: no power needed.
2. Easy to transportation: packing by one carton, and it can transportation by the air, express.
3. It is surface mounted: there is no need for heavy construction, No bricks and mortar or concrete, and can be easily moved to another site when required.
4. Easy to install: Just a normal people can install within one hour without any training.
5. Treated organic waste locally, such as food waste, animal wastes etc.
6. Biogas production for one family daily cooking and lighting.
7.Service life: more than 8 years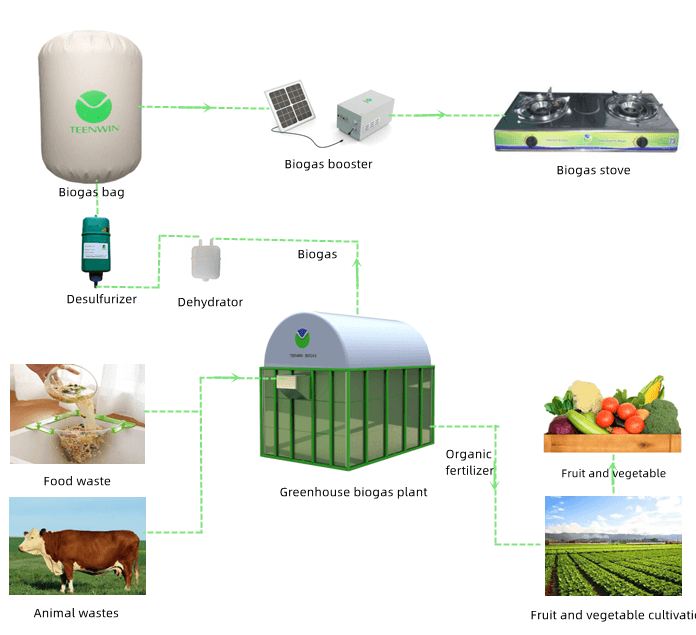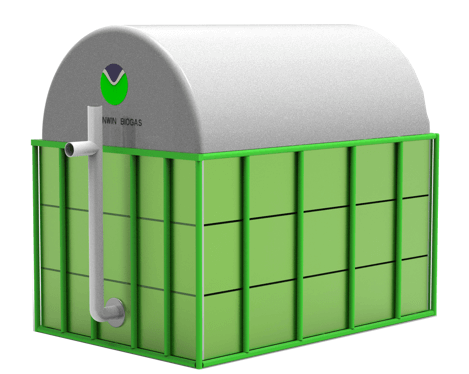 SN

Model

TY-GBP-3.6

1

Overall volume(m3)

3.6

2

Max. Bio-gas output (m3)

2.5

3

Overall Dimension(m)

1.86*1.22*1.6m

4

Space Requirement (m2)

4

5

Waste Treatment Capacity (kg)

Food waste

50

6

Pig manure

60

7

Cow dung

65

8

Chicken manure

56

9

Human waste

70

10

Vegetable waste

100

11

Material for digester

UV-resistant Red mud PVC Reinforced with mesh

12

Inlet

Stainless steel material for feeding tank,

13

Outlet

¢75mm UPVC for outlet pipe

14

Supporting frame

Anti-corrosion color steel enclosure

15

Fermentation temperature

Normal temperature :10-55°C
Ⅰ、Composition of Teenwin greenhouse biogas plant
It is composed of the Anti-corrosion color steel enclosure, Fiberglass transparent thermal insulation top plate, Anti-corrosion steel support and a membrane digester with a gas storage bag combined in one; it is scalable, easy & simple to assemble. It can absorbe the solar energy, with high fermentation temperature and high biogas production rate,and more biogas is produced in a short time.